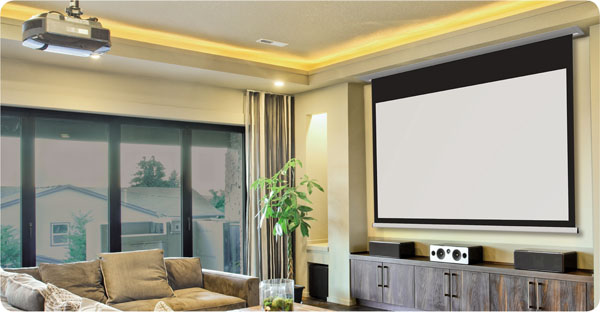 The importance of being called Motceiling
For situations that require a discrete presence, we recommend a nearly invisible electric screen, in which its special built-in system allows for the placing of the box inside the false ceiling, making the structure invisible, and avoiding that the presence of brackets or holes disturbs the perfect harmonization of the screen with its surrounding environment.
Standard equipment includes spacer bars, which enable to place the screen at a variable distance – between 15 cm and 100 cm from the ceiling – and an end cap for each side of the box, which allow the mounting system to be concealed.
In its Deluxe version, the Motceiling electric screen is enhanced by an elegant black perimeter edging and a slat bar with matt black finishing.
Like the other motorised screens, it can be made with both front projection and rear projection fabrics.